It has been a bit longer since my last post than I intended with this blog, but such is the way of life. My week since last posting has been eventful, but there is nothing about it that I am particularly incited to write about.
Last weekend was fairly quiet for how busy it was, three games in one weekend. This weekend finds me trying Requiem again. I have to say, although I have enjoyed this character before, and I am looking forward to Role Playing with people I haven't interacted with for a while, I am very worried about the game. First of all, it seems that the entire game is against me from the moment I walk in, that should be interesting. I'm also concerned about the ST group. While I've had good times under them, I've also had
serious
problems with their ST style.
Sunday I'm flipping burgers for a friend's wedding then going to see
Gogol Bordello
at
Toad's Place
. I'd kind of like to catch a movie this weekend, but I don't think that's going to happen. Tonight should be quiet, and I think I may be hanging out on Friday night. Hopefully I'll get through all of Galactica Season One soon.
Here is a little treasure from the web for the day. It's a little dense in philosophical material relating to the new Batman film, but it does include one of the greatest pictures I've seen in a long time.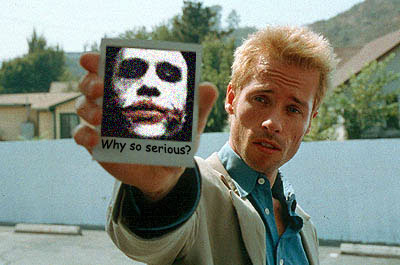 The Philosophy of Batman: Schopenhauer Edition